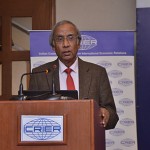 This is the summary of a speech that the author gave at a conference on 'Values in Foreign Policy: Interests and Ideals' –Indian Council for Research on International Economic Relations (ICRIER), India Habitat Centre. Click here to view details of the event.
Unlike the European Union, ASEAN is not a supra-national entity. Hence, caution is advisable in talking about ASEAN's 'foreign policy'. Yet, it is undeniable that in its over 50-year long existence, ASEAN has come a long way in forging and sustaining cooperation among its member-states in the domain of external relations, despite various divergences among them. Six-monthly summits of ASEAN leaders and their annual summits with a web of their dialogue partners ensure considerable harmony on this score.
However, since about 2012 the ASEAN region has been experiencing exceptionally intense geopolitical pressures that strain ASEAN unity and coherence on a number of critical issues. First, on the South China dispute, China's aggressiveness and unilateralism tested to the limits ASEAN's faith in the normative framework of international conduct that it espouses, characterized by the non-use of force and peaceful settlement of disputes. The China-ASEAN Declaration on Code of Conduct (DOC) gave little satisfaction to countries such as Vietnam and the Philippines that bore the brunt of China's coercive diplomacy, backed by military measures. As of now, negotiations between China and ASEAN for a binding Code of Conduct (COC) continue to move at a snail's pace.
Second, in recent years, the emergence of 'Indo-Pacific' as a new political construct has come to dominate the discourse on defining inter-state relationships in the region, thereby placing further strains on ASEAN unity. Several ASEAN member-states seem to be worried over the concept's implications, preferring to see in it a ploy to involve them in the on-going rivalry among great powers. However, Indonesia's acceptance of the Indo-Pacific, partially as a result of its strategic dialogue with India, has created new dynamics. ASEAN foreign ministers are presently engaged in crafting a common position on the subject. A related issue is the ASEAN's attitude towards the Quadrilateral Dialogue or the Quad among the U.S., India, Japan and Australia. Third, the insistence by ASEAN on its centrality in East Asian affairs raises the question as to how to adhere to and implement it in practice when the essential unity among its ten member-states is in jeopardy today.
ASEAN experts help us to recall, in the above context, the past debate about 'Asian values' as opposed to universalism inherent in the concept of human rights. That famous debate came to a close towards the end of the 20st century, with probably neither side winning it outright. But human rights continues to be a pertinent issue even today. What happened in Myanmar in August 2017 which resulted in the forced exodus of 700,000 Rohingya Muslims to Bangladesh is a tragic story that represents a blot not only on Myanmar but also on ASEAN, albeit indirectly.
It is 'the ASEAN way' – of consultation, compromise and consensus – that shows the way forward for the region and indeed the world. It implies that a set of values, principles, norms and civilized methods of interaction among nation-states are far more valuable than a naked pursuit of pure self-interest by nations. It indicates that rules and laws apply to all states – big or small, strong or weak. This formula will not call for 'America first' or 'China Dream' etc. but rather for 'Let us make Asia or the world great again.' It is anchored in the doctrine of enlightened self-interest; the Indian maxim – 'The World is one family'; and inclusivity and equity in the international community. For some, it is too difficult a formula to practice, but is it too difficult for all of us to understand and accept it?!
May I add that your conference is timely. Egyptian President Abdel-Fattah el-Sisi, addressing Europeans recently, observed:
"You are not going to teach us about humanity. We have our own sense of humanity, values and ethics, and you have your own idea of humanity and ethics, and we respect it. Respect our values and ethics, as we do yours."
I sense that many of us may not agree with President el-Sisi. I, for one, strongly believe that some values are universal, regardless of our differences over ideologies, religions and regions. They are applicable as much to states as to individuals and their institutions.
Rajiv Bhatia is Distinguished Fellow, Foreign Policy Studies, Gateway House
This summary is prepared from a speech delivered at a conference at the Indian Council for Research on International Economic Relations (ICRIER), India Habitat Centre on March 1, 2019. Click here to view details of the event.
For interview requests with the author, or for permission to republish, please contact outreach@gatewayhouse.in.
© Copyright 2019 Gateway House: Indian Council on Global Relations. All rights reserved. Any unauthorized copying or reproduction is strictly prohibited