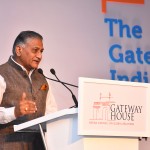 The Gateway of India Dialogue
Closing Keynote: "India's Global Engagement Strategy – Greater Energy, Growing aspirations"
I am delighted to be here to address this gathering. Let me first of all thank the strategic thinkers, thought-trenders, business leaders, mediapersons from our extended neighbourhood, major economies and G20 countries who have participated in this first edition of the Gateway of India Dialogue earlier today. I have been told that discussions were wide ranging, of very high quality and offered several new insights. Earlier in March this year, we had successfully co-hosted the first edition of the annual "Raisina Dialogue" with focus on geostrategic and geopolitical issues in New Delhi. The Gateway of India dialogue provides yet another similar forum with focus on geoeconomic issues. There cannot be any doubt of the importance of the theme of this conference which is "Where Geopolitics meets Business". This is especially so as we are undergoing a transition in India where the government is committed to making projection of its commercial and economic interests a centerpiece of its foreign policy.
Today, I have been asked to share my thoughts on "India's Global Engagement Strategy – Greater Energy, Growing aspirations". Let me endeavour to provide the broad contours of our foreign policy and its major thrust areas.
Before I dwell on the foreign policy, let me first briefly touch on the internal developments and the changing global situation which create the new context for the foreign policy of India. Last month, our Government completed two years in office after having been voted to power with a resounding majority, a thing that had not happened in three decades. The people's verdict was an aspirational one – for change and for good and effective governance. The Prime Minister, immediately after taking office, embarked on an ambitious programme for India's economic transformation. The flagship initiatives of the government such as the 'Make in India', 'Digital India', 'Skill India', 'Clean Ganga', 'Smart Cities', 'Start-up India', the emphasis on clean energy and the priority accorded to infrastructure development in roads, railways and ports – all of these reflect a new commitment to meet these aspirations for growth and development.
Another occurrence, which is not unrelated to the first is that we have a changing perception of India worldwide. We are now the fastest growing major economy. Our demographic trend puts us in a "sweet spot" so to say over the next two decades that will be critical in sustaining the momentum. The fact that we have now an energetic and more decisive leadership and a government committed to transformative change has shone a positive light on India in an otherwise difficult global environment. So while we reach out to the world in a pro-active, responsible and constructive way to deliver on our development goals, our foreign partners have shown inclination to respond positively, even going beyond the transactional pluses of the attractiveness of the Indian economy. They have come to see strengthening the Indian economy and partaking of the mutual benefit that it entails as one which is in keeping with their strategic interest. This has been part of our diplomatic effort to bring this new kind of convergence and to enable such an approach.
Distinguished Guests,
In the last 24 months, most observers will agree that the government has unveiled a new pace and quality for our global diplomatic engagement. This is reflected not just in our interactions with our traditional partners. But it is also manifest in the way we have covered new ground extending our outreach to new regions and addressed time gaps that have characterised our interaction with several of our partners – be it in our immediate neighbourhood or in Central and West Asia or in the wider Indo-Pacific region.
Our approach has also been to look at entire regions as a whole and to engage countries within these not as isolated relationships but taking into account complementarities among them. We hosted the largest ever gathering of Africa's Heads of States/Heads of Governments in India during the 3rd India-Africa Summit in October last year. Prime Minister's integrated tours to Central Asia, to East Asia, to Indian Ocean Island countries and the holding of India-Pacific Island countries Forum in India last year are other examples. The energetic outreach is also visible in our initiatives to have India emerge as the meeting and projection point of ideas and thoughts for the best minds. Our useful discussions here are part of this.
Going beyond, it goes without saying that the primary focus of our foreign policy has to be our neighbourhood, which is our immediate periphery. Both, our security and prosperity, is closely interlinked and interdependent with this region.  Our articulation of "neighbourhood first" policy has led to significant progress in each of our relationship in the region. We have imparted a new vision to relationships in the region which entails routinized exchanges, greater connectivity, and stronger economic exchanges. It also involves leveraging our common civilizational heritage to build a relaxed relationship, closer contacts and deeper connect within the region. Our approach has been essentially consultative, non-reciprocal and outcome oriented that ties in with our security interests. The mantra is of "shared prosperity through connectivity". We are willing to take the initiative and drive the process, overcome temporary difficulties and forge ahead. This also brings to bear a new mindset, not only in bilateral relations, but also to regional cooperation. Where SAARC works, we are happy to move forward within the SAARC framework and on issues that see scant progress there, we are open to working with willing partners at a sub-regional level. The Bangladesh Bhutan India and Nepal or the BBIN Arrangement is an example.
The inclination to look for opportunities abroad rather than focus only on threats also imparts a new confidence in our engagement with major powers. With the US, India's relationship has acquired a new quality and character in recent times. The recent visit of the Prime Minister to the US earlier this month or the participation of President Obama as the Chief Guest at the 2015 Republic Day celebrations reflect deepening of this relationship. Breaking new ground in our defence relationship and creating new frameworks for cooperation on issues such as cyber security and climate change demonstrate a new maturity in our relationship. With Russia, the traditional strategic sectors of engagement – defence, space, nuclear energy – have seen healthy progress while efforts to add a significant new "economic pillar" to our strategic partnership, through mutual investments, promoting better market access and expanding tourism and people-to-people ties, have intensified following exchanges between President Putin and Prime Minister. With China, Indian policy has been recalibrated to focus on deepening and widening economic engagement with China, in particular, in areas such as infrastructure and investments, while continuing to engage on outstanding issues between us. Our Act East policy with emphasis on implementation and operationalisation, our cooperation with Australia and Japan on nuclear and security issues, and our continuing engagements with our strategic partners in Europe are all part of our new emphasis of leveraging foreign policy for addressing our security imperatives and advancing our domestic transformation.
Given the strategically complex environment we inhabit and the various traditional and non-traditional threats that we face, it is natural that our foreign policy should seek to engender a landscape which ensures the security of our people and keeps us focused on our fundamental objective of progress and prosperity. This will remain an enduring challenge even as they also present opportunities for expanding our role in the wider region and world at large.
We have shown commitment to creating shared stakes in security and prosperity in our immediate periphery by demonstrating our readiness to tackle difficult issues like the land and maritime boundary problem with Bangladesh. Our efforts among the Indian Ocean littoral States to build security networks through collaboration on coastal surveillance, sharing of white shipping information and cooperation in fighting non-traditional threats like marine piracy, smuggling and organized crime are also part of this strategy.  Our Act East policy with emphasis on connectivity and economic integration similarly is aimed at linking security to economic prosperity in our extended neighbourhood to the east. Our recent overtures with West and Central Asia are likewise predicated on building bridges based on similar stakes in stability and prosperity and helps deal with traditional challenges to our security and connectivity on our Western flank.
We have also demonstrated willingness and ability to step up to the task of being a provider of security in our immediate and extended neighbourhood as reflected in our new emphasis on HADR. India is creating standing capacity to respond to natural or manmade emergencies and increasingly showing the characteristics of a public-goods provider in this sphere. Assistance to Nepal during the disastrous earthquake or supply of water to Maldives or the recent assistance rendered to Sri Lanka following floods and landslides demonstrated our willingness to make available our capabilities to our partners in times of distress. The exemplary role played by our defence forces in coordination with MEA in these challenging situations, as also in the evacuations of our citizens in distress, alongwith several foreign nationals from Yemen and Libya are examples of our commitment in this regard.
The role of a responsible power and a public goods provider involves strengthening of the global order by emphatic espousal, reiteration and abiding by the global 'rules of the game'. It is in this context that we must interpret India's articulations in favour of freedom of navigation and peaceful resolution of disputes in the Indo-Pacific theatre, for example. As we continue to grow, we will increasingly be called upon to take a stance in support of norms of behaviour that further stability and predictability for all. On present indications, we are looking at an India that will be willing to take these calls in a responsible and responsive manner, including in working with partners in ASEAN to build a new security architecture within Asia.
Ladies and Gentlemen,
You will agree that the most important security threat confronting us is that of terrorism emanating from across our borders. Our efforts at building an international consensus on fighting terrorism and extremism are a work in progress. Terrorism is a disruptor of stability and progress in our region and beyond. In recent times, we have seen terror groups evolve in malignly dangerous ways, first by expanding to acquire global reach and ambitions, and then by spreading into even more dangerous dispersed networks of loosely affiliated cells spanning countries and continents and even acquiring trappings of a State seeking the loyalty of not only its own residents but of a global fraternity of faithful. Much of this has been enabled or encouraged by the support, sponsorship or willful connivance of some or the other nation state, seeking to advance some short-term tactical benefit.
Our approach has been to seek a global legal regime that treats this problem in a unified and integrated manner by holding nation states accountable for their actions or inactions in support of terror. Our two-decade old proposal for a Comprehensive Convention on International Terrorism is probably the best way forward in this regard. But in the interim we continue to seek convergences with key countries to isolate the space for terror elements and to deny them the territory from where they seem to take roots and flourish.
A word about the new emphasis on economic diplomacy is a must for this gathering. I believe that this was the subject of Foreign Secretary's address to you yesterday at the inaugural session. So let me say in brief that projecting India's economic interests has acquired a new profile in recent years as also our emphasis in making foreign policy increasingly a tool to assist with our domestic economic transformation. Indeed in the last two years we have seen a much closer alignment between our foreign policy and domestic objectives and a clearer recognition that diplomacy is above all enabler of domestic growth. This, of course, has been aided by the enunciation of domestic development objectives into concrete flagship programmes, which in turn have made identification of bilateral partners easier. Indeed, in recent years, these flagship programmes have become not only subjects of bilateral discussions among our leaders but have also increasingly featured as concrete outcomes emerging through these high level interactions.
Related to this new emphasis on economic diplomacy has been the new federal factor in Indian foreign policy. Looking at States in India as an integral part of our foreign policy strategy and using their energies and contribution to strengthen the punch of our foreign policy in its economic dimension is clearly an innovation that traces its origins to the Prime Minister and his experience as Chief Minister of Gujarat over a decade. This is the new cooperative and competitive federalism that Prime Minister has advocated to make Indian States equal stakeholder in his efforts to implement economic reforms and to improve business conditions in India. They are part of the overall forward policy on trade and investment and of improving the ease of doing business in India.
One of the thrust areas of our diplomacy which has a particular resonance for me, given my background as Chief of the Indian Army, has been the emphasis on defence manufacturing as part of Make in India. Prioritising indigenous manufacturing of defence platforms in India in the last two years has received a significant boost. The Government has taken several steps to promote defence manufacturing in India, including raising the FDI cap for the defence sector to 49% with a provision for further increase if access to state-of-art-technology is being provided. It has also announced a new Defence Procurement Procedure in March 2016 with focus on 'Indigenously Designed, Developed and Manufactured' (IDDM). It has drawn up a list of defence items requiring industrial licensing and established security procedures for licensed defence industries. Ministry of Defence (MoD) figures estimate that India is likely to spend around USD 130 billion on defence modernisation in the coming seven years. This makes India one of the largest defence markets in the world.
It is in this context that the Government has worked with partners in countries like Russia, US and France and energised its efforts to look for new commitments by their companies to set up joint ventures with Indian counterparts in the area of defence manufacturing. The India-US Defence Technology and Trade Initiative (DTTI) is a notable instrument and progress made on four Pathfinder projects under this framework has been progressed further by adding two new pathfinder projects to its portfolio in April 2016. India and US have also activated Joint Working Groups to explore design and development of aircraft carrier technology and Jet Engine Technology. Discussions with our traditional defence partner, Russia, have been progressed on the development and manufacture of different platforms and setting up arrangements for long-term supply of defence spares for making in India. In 2015, in a significant development, an enabling defence agreement opened new avenues for transfer of defence equipment and technology from Japan to India. The results of all these efforts have led to several new proposals for joint ventures between Indian companies with counterparts in Russia, USA, France, Spain and the Netherlands involving leading companies from these countries and India. The industry leaders present here must, therefore, look at these new opportunities and use them in advancing both Indian interests and their own business profile.
Moving to softer issues, I must acknowledge that a new area of our focus has been the projection of philosophical and creative traditions of India. The impact of India's traditional wisdom and influence can be seen in the cultural landscape of many countries, not just in Asia but also beyond it. Our effort has been to build on these to forge closer bond among the countries with shared traditions. This has been demonstrated in innovative initiatives such as the success in getting 21 June declared as the International Day of Yoga in the United Nations. We are also focusing on India's Buddhist heritage to reach out to large sections of the populations of East and Southeast Asia. We are also reaching out to countries in the Persian Gulf and the east coast of Africa by recalling the cultural and commercial connections established along the spice routes that spanned the Arabian Sea and the Indian Ocean. Celebrating the reach and appeal of Sanskrit and Hindi, not just among people of Indian origin but also among Indophiles and Indologists in Europe and other parts, has also figured in this broader push for re-establishing soft connections. Our contribution to the First World War even when we were not an independent nation provides another example. This has to be seen with ongoing contribution to the UN peacekeeping efforts around the world.
Distinguished Guests, Ladies and Gentlemen.
As this Dialogue comes to an end, let me thank all of you for your participation. We value your participation and views. And we are certain that deliberations during this dialogue have benefitted all of us. I look forward to your participation for the next year's event as well.
Thank You.
General V.K. Singh is the Minister of State of External Affairs.
This speech was delivered as the Valedictory Address at The Gateway of India Dialogue 2016, held in Mumbai on the 13-14th of June 2016.
You can read exclusive content from Gateway House: Indian Council on Global Relations, here.
For interview requests with the author, or for permission to republish, please contact outreach@gatewayhouse.in.
© Copyright 2016 Gateway House: Indian Council on Global Relations. All rights reserved. Any unauthorized copying or reproduction is strictly prohibited