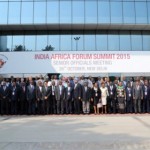 Among the most telling examples of India's soft power in Africa is the popularity of its low-cost generic medicines. But this  may soon change if India buckles under pressure from the U.S. to overhaul its intellectual property rights (IPR) regime.
Africa understands what is at stake. A recent report in the Nairobi-based Daily Nation  captures the fear of many African governments. It points out that Kenya may be forced to hike its future annual health budget if global drug companies have their way, and if India, Kenya's biggest source of generic drugs, is pressured by its trading partners to change its patent regime [1].
African leaders, including Kenyan President Uhuru Kenyatta and Gambia's Health Minister Omar Sey, took the opportunity of the third India-Africa Forum Summit (IAFS) in New Delhi last month to urge India to continue being the pharmacy of the developing world.
In the run-up to the IAFS, Kenya's ambassador to India, Florence Imisa Weche also said that the issue of affordable medicine imports from India—especially for treating AIDS—is a matter of great concern for African nations[2]. He said that the visiting African leaders would urge Prime Minister Narendra Modi not to dilute India's generic pharmaceutical industry. Last August, South African Health Minister Aaron Motsoaledi told Scroll, an online news portal, that he was "scared and worried" [3] about the possibility of changes in India's IPR regime.
In 2001, when AIDS had become the leading cause of death in sub-Saharan Africa, Indian company Cipla rolled out a generic version of antiretroviral (ARV) for $1 a day [4]. South Africa could scale up HIV treatment in its healthcare programmes only because Indian generic medicines made treatment more affordable.
Currently, Indian pharmaceutical joint ventures or subsidiaries manufacturing or trading in Africa include  Cipla Ltd, Ranbaxy Laboratories, Dr Reddy's laboratories, Glenmark Pharmaceuticals, IPCA Laboratories, Parentearl Drugs, Emcure Pharmaceutical Ltd., Aurbindo Pharama Ltd., J B Chemicals, Cadila Healthcare, Lupin Ltd, and Intas Pharmaceutical Ltd, notes a report  by the Delhi-based Research and Information System for Developing Countries (RIS). [5]
What has triggered Africa's fears about access to low-cost Indian generics?
It is no secret that India has been under sustained pressure, notably from the U.S. and the European Union , to overhaul its IPR regime so as to better protect the interests of pharmaceutical companies headquartered in Europe and the West. This can potentially hike up the price of Indian generics.
A statement by the office of the United States Trade Representative (USTR), in October, in the wake of the  ninth ministerial-level meeting of the US and India Trade Policy Forum on October 29, 2015, between U.S. Trade Representative Michael Froman and India's Minister of Commerce and Industry Nirmala Sitharaman in Washington D.C, noted that both countries "emphasised the role of robust and balanced intellectual property rights protection in fostering creativity, promoting innovation, and attracting investment, taking into account the interests of all stakeholders including the public." [6]
A report by the United States International Trade Commission stated that the U.S. is optimistic about the willingness of Modi government officials to engage in discussions with the U.S. on IPR issues. [7]
The Indian government's official position remains that the country's patent regime is fully compliant with the World Trade Organisation's Agreement on Trade-Related Aspects of Intellectual Property Rights (TRIPS), and that India is finalising its IPR policy. The U.S. has publicly welcomed the efforts made by the Indian government to prepare a National Intellectual Property Policy and constitute an IPR think tank. However, the U.S. is watching India with guarded optimism.
Indian medicines continue to be cheaper because the country allows it generic drug business to thrive under TRIPS. Therefore, any change in India's IPR policy and practices could potentially impact access to affordable medicines not only in India, but across Africa and beyond.
The Delhi Declaration 2015, the outcome document from the third IAFS, seeks to allay African fears by flagging the need to "ensure access to affordable and quality medicines and treatment, particularly generic medicines" and notes that "both sides acknowledge the importance of full use of the flexibilities provided by the agreement on trade related aspects of Intellectual Property Rights (TRIPS) administered by the World Trade Organisation (WTO)."[8]
At a high-level event on 30 October on the sidelines of the IAFS India's Health Minister J P Nadda, too, said that India will work with the African Union on regulatory harmonisation so that pharmaceuticals remain accessible, affordable and without compromising with quality.[9]
Official statements notwithstanding, as of now it is unclear how India will resolve the friction between pharmaceutical patents and access to affordable medicines.
Medecins Sans Frontieres, a Nobel Prize-winning international humanitarian organisation, is among those fervently urging African governments and India to work together to maintain trade in affordable generic medicines [10].
How India balances these competing pressures is going to be keenly watched within and beyond the country.
Patralekha Chatterjee is a Delhi-based journalist; she writes on health and intellectual property rights.
This article was exclusively written for Gateway House: Indian Council on Global Relations. You can read more exclusive content here.
For interview requests with the author, or for permission to republish, please contact outreach@gatewayhouse.in.
© Copyright 2015 Gateway House: Indian Council on Global Relations. All rights reserved. Any unauthorized copying or reproduction is strictly prohibited
References
[1] Daily Nation, 'Drugs row threaten health sector budget,' 5 October 2015, <http://www.nation.co.ke/news/Drugs-row-threatens-health-sector-budget/-/1056/2900386/-/gq7x5xz/-/index.html>
[2] The Wire, 'India Must Resist US Pressure on Generic Drugs, African Leaders to Tell Modi, 26 October 2015, <http://thewire.in/2015/10/26/india-must-resist-us-pressure-on-generic-drugs-african-leaders-to-tell-modi-14015/>
[3] Scroll.in, 'Why South Africa's health minister is so worried about India caving in to big pharma,' 10 August 2015, <http://scroll.in/article/745344/why-south-africas-health-minister-is-so-worried-about-india-caving-in-to-big-pharma>
[4] Medicins Sans Frontieres, 'AIDS triple therapy for less than $1 per day,' 7 February 2001, <http://www.msf.org/article/aids-triple-therapy-less-1-day>
[5] Research and Information System for Developing Countries, 'India-Africa partnership in health care,' 2015, <http://ris.org.in/pdf/India_Africa_Partnership_in_Healthcare.pdf>
[6] Office of The United States Trade Representative, 'United States and India Joint Statement on the Trade Policy Forum
,' October 2015, <https://ustr.gov/about-us/policy-offices/press-office/press-releases/2015/october/united-states-and-india-joint>
[7] The United States International Trade Commission, 'India Made Significant Changes to Some Trade and Investment Barriers During May 2014 – July 2015, Says USITC,' 22 October 2015, <http://www.usitc.gov/press_room/news_release/2015/er1022ll515.htm>
[8] Ministry of External Affairs, 'India-Africa Framework for Strategic Cooperation,' 29 October 2015, <http://mea.gov.in/Uploads/PublicationDocs/25981_framework.pdf>
[9] UNAIDS, 'India and Africa strengthen partnership on accessible and affordable medicines,' 30 October 2015, <http://www.unaids.org/en/resources/presscentre/featurestories/2015/october/20151030_india-africa>
[10] Medicins Sans Frontieres India, 'MSF Launches Global Campaign Urging India to Protect Access to Affordable Medicines,' 11 June 2015, <http://www.msfindia.in/article/msf-launches-global-campaign-urging-india-protect-access-affordable-medicines>