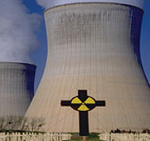 The construction of more nuclear power plants can help reduce India's excessive reliance on coal, that is hurting the power sector and the economy. News reports on October 9 indicate that India's top power generation company NTPC will be shutting down 1,200 megawatts of coal-fired power plants because of fuel shortage. There is also news that the state of Punjab has shut down 10 of 14 coal fired power plants for the same reason. The recent Supreme Court judgment on coal block allocation has created uncertainty around private sector investments in coal sector, and the dominant player Coal India Limited is unable to cope up with growing demand. Under the current circumstances, nuclear energy is a a cheaper and a more reliable option.
In its recently brought out FY-14 annual report, Nuclear Power Corporation of India gives the average tariff for all its power plants as Rs 2.71/unit for the year. This isn't a one-off low-cost model; the average tariff was Rs 2.69/unit during FY13[1].
This gives rise to the question – how does this compare with other forms of electricity? India uses coal to generate bulk of its electricity and the NTPC is the largest and the lowest cost producer in that space. The NTPC's average tariff during FY14 was Rs 3.3/unit[2]. The NTPC gets its entire coal requirement from Coal India at less than international prices. Private sector producers such as Tata Power or Adani Power, which import coal from countries such as Indonesia and Australia, have higher cost of generation. Unlike coal or gas based power, most of the cost of nuclear power is incurred during construction and fuel is a minor cost, as Gateway House has written earlier. Thus, once the power plant is completed, cost of electricity is unlikely to see major fluctuations.
Nuclear power also scores higher on reliability. During FY14, NPCIL's plants operated at a load factor of 83.5%[3]. NTPC was marginally behind at 81.5%. However, the combined figure for all coal-fuelled power plants in India was 65.5% – which indicates the problem caused by unreliable fuel supply. A caveat here – the NPCIL's improved performance is a recent development, after India and the U.S. signed the 123 Agreement, which is known as the U.S.-India Civil Nuclear Cooperation in 2008.
India was locked out of international nuclear trade before the signing of this agreement and had to rely only on insufficient domestic uranium supplies from Jharkhand, Meghalaya, Andhra Pradesh and Rajasthan. After 2008, India started importing nuclear fuel in a big way from Russia, France, Kazakhstan, and Uzbekistan. As a result, NPCIL's plants saw their capacity utilization improve from ~50% levels earlier to 80%+ now. India has recently also concluded a fuel supply deal with Australia, a major uranium producer. With fuel supply no longer an issue, India needs to scale up its nuclear program now.
Amit Bhandari is Fellow, Energy & Environment Studies, Gateway House.
This blog was exclusively written for Gateway House: Indian Council on Global Relations. You can read more exclusive content here.
For interview requests with the author, or for permission to republish, please contact outreach@gatewayhouse.in.
© Copyright 2014 Gateway House: Indian Council on Global Relations. All rights reserved. Any unauthorized copying or reproduction is strictly prohibited