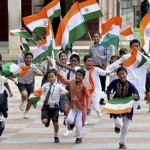 India's growth record is enviable. Since the mid-1990s, its GDP per capita has been growing by at least 5% a year, with growth rising close to 8% in 2015. Over the past decade, about 140 million people have been taken out of poverty. This has been accompanied – and supported – by declining inflation and current account deficit. Large terms of trade gains – from the halving of global oil prices – have certainly helped, but long standing supply bottlenecks have been tackled as key structural reforms have recently been taken forward.
The demographics of modern India should add to India's growth potential. India's young labour force now stands at the cross roads of this potential. While Japan and even China are aging rapidly, more than half India's population is below the age of 25. India will account for one-quarter of the increase in the world's workforce over the next five years. And this chart shows that India's old age dependency rate will remain below many others until 2050. History teaches us the striking growth implications of changing demographics.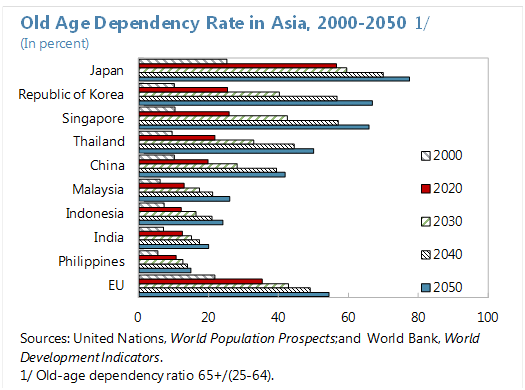 The implications of this potential are clear. About one million people now join the labour force every month, which has given rise to concerns about India's growth inclusiveness and sustainability. Employment data are not frequent or reliable enough, but certain key labour market trends are clear and need to be addressed to realise this potential: [1]
Despite India's strong growth, the measured employment rate has fallen markedly over the past decade.
The decline is especially noticeable in the organised sector (firms with more than 10 employees) that is monitored by the government's quarterly surveys.[2]
The majority of workers, especially in agriculture and services, are outside the organised sector, and are not covered by the labour laws.
Contract labour in the organised manufacturing sector has increased a great deal since 2000 and earns significantly less than the regular work force does. Female labour force participation in India, already among the lowest relative to other emerging markets, has been on a declining trend since 2004- Moreover, there is a large gap in the labour force participation rates of men and women in India.[3]
There are large state-wise variations in these trends in close correlation to the rigidity of the labour laws of states.
Given these labour market trends, it is not surprising that income inequality has risen in India (and more in China), in contrast to other regions.[4] In India, spatial disparities, in particular between rural and urban areas, explain much of the increase, and the gap between the income share of the top and bottom earners has also grown significantly, suggesting the rising prevalence of skills shortage and the polarisation of workers.
To some extent, these trends are reflective of India's growth path that has been strikingly different from other emerging market countries that have jumped to middle income status. The standard route to prosperity in Asia has been to start with low-skill manufactured products, such as textiles and footwear, export them, then gradually move up the quality ladder in manufacturing, build a regional supply chain, and begin to de-industrialise only when income nears middle income status.
In contrast, India's growth has been more based on high-skilled labour, with India's IT/ICT boom and, even within manufacturing, India has specialised in capital-intensive industries, such as steel and chemicals, and skill-intensive manufacturing. In turn, the reliance on skilled labour reflects India's emphasis on higher education, with it spending a multiple on tertiary education than on primary, with implications for the rising skills shortage.
What needs to be done to address these labour market trends, create jobs, and secure the benefits of India's demographics? Global attention on India, including from the International Monetary Fund (IMF) and other international institutions, has increasingly been on this issue.
On the long agenda of needed structural changes, labour market reforms are essential to enhance the impact of recent product market reforms. It's clear from the evidence and from history that labour regulation is the main reason why India's formal sector is so small. Its provisions discourage employment and are especially restrictive for labour-intensive sectors, like textiles.[5] Labour regulation creates adjustment costs in hiring and firing, and in adjusting production. So, firms have substituted, moving away from labour toward other labour-saving inputs.
Thus, a much greater labour market can be regarded as India's Achilles' heel, hindering the realisation of its demographic potential. Other countries in South Asia, and Brazil and South Africa too, where labour market rigidity is also relatively inconsistent with their demographic potential, share this concern.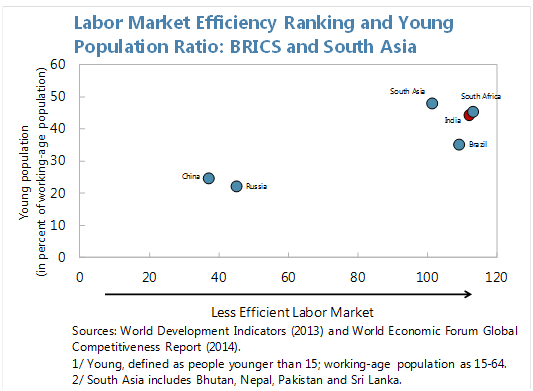 More specifically, in India, reforms to the Industrial Disputes Act (IDA) of 1947 – which requires firms employing 100 or more workers to obtain government permission for layoffs, retrenchments, and closures – along with reforms to various restrictive clauses under the Factories Act of 1948, are among the most important. Fundamentally, there is the need to reduce the number of labour laws, currently numbering around 250 at the central and state government levels (affecting different aspects of the labour market, such as minimum wages, industrial disputes, conditions for hiring and firing workers, and for the closure of establishments).
Such reforms are crucial to increasing the employment of women in the formal sector, broadening the manufacturing base, and increasing employment in the formal sector of the economy. These will also enhance the positive impact of other structural reforms.
It is towards this end that the central government is considering rationalising a large number of its laws into four labour laws. Meanwhile, it has taken steps towards reducing the administrative requirements for complying with the existing ones. Among these is the launch of the online portal, Shram Suvidha, that allows firms to report compliance with 16 central government laws. It helps also that the Apprenticeship Act has been amended to allow more industrial sectors to employ apprentices.
However, the challenge goes well beyond that of the central government as the regulatory environment for labour is shared with the states. Labour regulations across states have therefore become highly heterogeneous (Chart) and this has created a very uneven investment environment in the domestic economy.[6]
In particular, the differences in labour laws and regulations across the Indian states have added to the complexity of creating jobs in the formal sector across the economy, and are, therefore, especially restrictive for labour-intensive sectors – which explains why India's formal labour sector is so small. And, together with the many differences in the licenses and permits system at the state level, this results in varying barriers to entrepreneurship here, that make India's rating in this area among the most restrictive globally.[7]
The current government is hoping to spark competition among the states for labour market reforms, and thereby attract domestic and foreign investment. The aim is to expand labour market reforms to a critical mass of states with a stronger manufacturing base. Some states have taken the lead in reforming labour laws: in many ways, Rajasthan has been the most active. Maharashtra and Tamil Nadu have helped female labour force participation by allowing women to work night shifts.
In sum, what this means is that the constraints to creating quality jobs consistent with India's demographic potential are high. Labour market reforms are critical to better build benefits from the multiple reforms that are in the public debate.
Interlinked with labour market reforms is the need to create opportunities for more people to acquire skills. This is particularly important because modern technology has a skills bias that is key to the future growth model. Meeting these education needs will require increasing resources spent on education and improving its focus and effectiveness. This will also help lead to higher female labour force participation by boosting female human capital. There are large disparities across states in education skills too and, in both cases, India needs to shift the reform debate to the Indian states.
Anoop Singh is Distinguished Fellow, Geoeconomics Studies at Gateway House: Indian Council on Global Relations.
This article was exclusively written for Gateway House: Indian Council on Global Relations. You can read more exclusive content here.
For interview requests with the author, or for permission to republish, please contact outreach@gatewayhouse.in or 022 22023371.
© Copyright 2017 Gateway House: Indian Council on Global Relations. All rights reserved. Any unauthorized copying or reproduction is strictly prohibited.
References
[1] Updated data are summarised in: Organisation for Economic Co-operation and Development, OECD Economic Surveys: India, (Paris: OECD, 2017), <https://www.oecd.org/eco/surveys/INDIA-2017-OECD-economic-survey-overview.pdf>
[2] The Labour Bureau of the Government of India carries out quarterly surveys on employmentin eight industries in the organised sector.
[3] This gender gap needs to be narrowed to fully harness India's demographic dividend, and the literature is clear that greater economic participation of women leads to higher economic growth. Sonali Das, Sonali Jain-Chandra,Kalpana Kochhar, and Naresh Kumar, Women Workers in India : Why So Few Among So Many? Das, Sonali, Sonali Jain-Chandra, Kalpana Kochhar and Naresh Kumar, Women Workers in India: Why So Few Among So Many?, (Washington D.C.: IMF Working Papers, 16 March 2015).
[4] Jain-Chandra, Sonali, Kalpana Kochhar and Monique Newiak, Empowering Women, Tackling Income Inequality, (Washington D.C.: IMF Blog, 22 October 2015).
[5] Organisation for Economic Co-operation and Development, OECD Economic Surveys: India, (Paris: OECD, 2017), <https://www.oecd.org/eco/surveys/INDIA-2017-OECD-economic-survey-overview.pdf>
[6] India, 2015 Article IV Consultation Staff Report, International Monetary Fund (IMF), Country Report No. 15/61, and 2015b, India: Selected Issues, IMF Country Report No. 15/62, Washington.
[7] World Economic Forum, The Global Competitiveness Report 2016-2017, (Geneva: WEF, 2016).