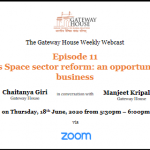 The discussion addressed India's Space Sector reform as an opportunity for business,
In this Webcast, which was recorded earlier this week (June 18), the speakers highlight four main points:
a) The Government of India comprehends that the world is on the cusp of Industry 4.0; simultaneously the economic challenges resulting from COVID-19 demands unleashing of untapped economic sectors. These two are important drivers of India's space sector liberalization.
b) While ISRO does form the nucleus of the space sector, the space agency today needs a vibrant space technology ecosystem around it for better utility to the nation.
c) With the newly announced space sector reforms, that culminated in the establishment of an Indian National Space Promotion and Authorisation Centre (IN-SPACe) on 24 June 2020, the private space sector has been given a free reign to invest and grow in the burgeoning global and domestic space economy.
d) Additionally, this reform could spawn diverse space ecosystems and space special economic zones (SSEZs) all over India.