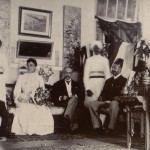 Not many are aware that it was in Mumbai that the first American consulate on the subcontinent was established in 1838 — much before one in British India's capital city of Calcutta. What is also not well known is that in November 2011 the city of Hamburg (part of the Federal Republic of Germany) appointed an ambassador to Mumbai (Hamburg Representation Mumbai) where once the city-state of Hamburg had its own consulate in 1844. This was even before the Prussian consulate, predecessor of Germany's consulate, was established.
What is even more interesting when one compares the history of these two foreign missions is that the United States consulate general has had an almost continuous presence in the city: until recently, Lincoln House, the art deco city palace of the royal family of Wankaner at Breach Candy, housed the US consulate general from 1957 to 2015. But the re-establishment of the Hamburg Representation Mumbai (at a Cuffe Parade address) is more in line with global trends in economic and cultural diplomacy, specifically city to city bilateral relations.
The increasing political and economic clout of global cities and their mayors (most evident during the  2015 COP21 Paris summit, when 400 city mayors came together for the Climate Summit for Local Leaders) [1], may prompt India's Ministry of External Affairs (MEA) to open a representative office in Mumbai to leverage the island-city's historic centrality not just to the Indian Ocean's trade world and as location of the country's second global financial centre, but as a megalopolis (super city) that needs independent representation on international forums.
One indication of Mumbai's evolving stature is the increasing diplomatic corp in the city. According to the current Consular Corp Association of Mumbai Directory (2013), there are 46 consulates and 54 honorary consulates in the city. A few more have opened since, like the Norwegian consulate general's office at Bandra-Kurla Complex.
Historic Mumbai's diplomatic corp
Mumbai's engagement at the vanguard of India's economic diplomacy, though very much in keeping with current trends, is not new to the city itself.
Mumbai was part of a globalised world, albeit an imperial one, during the period 1870 to 1914, which is termed by world historians as the First Globalisation. It was a nodal port and international financial centre during this time. [2]
A study undertaken by this author of the consulates present in Mumbai reveals that in 1875 there were 14 in the city, largely located in the Fort precinct. Of these, there was a predominance of nine European diplomatic missions [3], while West Asia accounted for two (Turkey and Muscat), the Middle East one (Persia), the Far East one (Siam or present day Thailand), and North America one (USA).
In contrast, by 1909, other regions of the world established their consulates in the city, indicating a vibrant trade between Mumbai and these countries 100 years ago. Among the new names are two South American countries (Brazil and Chile), one Central American (Nicaragua), one West African (Liberia), one from the Far East (Japan), Russia, and additionally, Denmark, among the European countries.
This growing diplomatic presence was a natural transition from the many foreign trading houses, which informally represented their countries and international clients in trade, and sometimes, political matters, with the East India Company's government, and after 1858, with the British Indian government.
The need for a political representative in Mumbai resulted in most countries recognising their business representatives as honorary consuls, as happened in the case of The Netherlands, Switzerland, and Sweden and Norway (before Norway parted from Sweden in 1905). By the early 20th century, honorary consuls were drawn from heads of companies, for example the head of WIMCO (a subsidiary of Swedish Match Company) represented Sweden from 1947 to 1990.
In time many honorary consulates were transformed into full-fledged diplomatic missions, headed by a career diplomat. The geographical reach of these Mumbai-based consulates exceeded the boundaries of erstwhile Bombay Presidency — large in itself as it included Aden and Sind — to cover Rajputana (the princely kingdoms of Rajasthan), the British Central Provinces, and Portuguese Daman, Diu and Goa. In practice, as these consulates were very often the only representative of their country in South Asia, the city became an important node for foreign diplomatic activities.
Mumbai: home away from home
How did Mumbai measure up compared to its contemporaries, Tokyo, Shanghai, New York, as host and home to its foreign diplomats?
We get some indication from the writings of Ottoman consul, Abdülhaq Hâmid, who lived in Mumbai from 1884-86. Hâmid, who is considered the finest exponent of Turkish dramatic poetry, remarks in his letters from Mumbai that life in the city was easy paced in spite of the commute from the suburbs of Malabar Hill (his home) to his office in Fort, leaving him enough time to write poetry. However, he complains, "Everything is far too costly. There is the necessity of keeping horses and carriages and about 20 servants…Dinners and return dinners have to be given and the 15-room mansion has to be kept lit at night." [4]
Hâmid's letters reiterate what Dennis Kincaid, a British civil servant who worked in the city's courts, wrote in his book, British Social Life in India 1608-1937. The rhythm of social and cultural life for Mumbai's European, diplomatic, and anglicised civilian community was dictated by the movements of the governor-general and his council.
The highlight of the Mumbai (November to March) and Pune (June to October) seasons, was the Governor's ball, where ladies vied with each other to show off the latest in London and Parisian fashion, while the proximity of one's dinner seat to that of the governor and his wife decided one's place in Mumbai's social hierarchy.
A breakaway from this circuit of parties, clubs — Byculla Club, Bombay Gymkhana, Royal Bombay Yacht Club — horse-racing, picnics and hunts, occurred in the 20th century when other cultural avenues opened.
Most of these inputs came from the city's diplomatic community itself. In addition to national day celebrations (see photo), the consulates showcased the cultural and artistic life of their countries by hosting theatre troupes, musicians, writers and artists, which enriched Mumbai's cultural life. Some visible influences on the city's art fraternity during the early 20th century were American jazz bands that frequented the city and European Expressionism.
The breakaway from British design sensibilities in art, architecture, interiors, theatre, music and movies, was partly engendered by the city's expatriate and diplomatic community. A case in point was the patronage of the Bombay Progressive Artists Group, whose many buyers were diplomats, like Consul General Jacob van de Gaag of the Netherlands (1958-65), and heads of foreign companies. [5]
Many foreign consulates closed down in the 1960s as the globalised world economy of the early 20th century was replaced by a Cold War economy. Mumbai itself was confined to being the financial capital of India and was no longer a centre for the circulation of international capital, trade and people.
The liberalisation of the Indian economy 25 years ago, combined with the globalisation of the world economy — since the 1980s — has opened opportunities for the city. Building on its history, its current strengths, namely, manpower and institutions, cosmopolitan nature, and revival as a diplomatic hub, could give impetus to the idea of Mumbai hosting an international institution, like the BRICS headquarters: it's an idea for which the city may just be ready.
Sifra Lentin is the Mumbai History Fellow at Gateway House. 
This article was exclusively written for Gateway House: Indian Council on Global Relations. You can read more exclusive content here.
For interview requests with the author, or for permission to republish, please contact outreach@gatewayhouse.in.
© Copyright 2016 Gateway House: Indian Council on Global Relations. All rights reserved. Any unauthorized copying or reproduction is strictly prohibited
References
[1] http://www.wri.org/blog/2015/12/cop21-highlights-importance-city-actions-climate-fight
[2] Overy, Richard, The Times Complete History Of The World (London, Harper Collins Publishers, reprint 2011), pp 276-77.
[3] The 9 European consulates are: Austro-Hungarian, Belgium, France, Italy, Netherlands, German Empire, Portugal, Spain, and Sweden and Norway.
[4] Wasti, Syed Tanvir, The Indian Sojourn of Abdülhaq Hâmid, in Middle Eastern Studies, Volume 34.4, October 1998, p 35
[5] Zitzewitz, Karin, The Perfect Frame: Presenting Modern Indian Art, Stories and Photographs from the collection of Kekoo Gandhy ( Mumbai, Chemould Publications, 2003), pp 30-31.