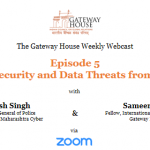 This discussion covered the following points:
What kinds of cyber and data threats originate from China?
Is there a global awareness and response to this?
Why is there a rise in ransomware and phishing attacks during the Covid-19 crisis?
How are fake news and disinformation campaigns being weaponised?
How secure is India's critical digital infrastructure?
This video was recorded on Zoom during the fifth episode of the Gateway House Webcast which took place on 07 May 2020.