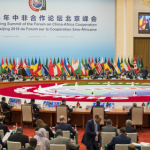 India's vice president returned last week after a fruitful visit to Botswana, Zimbabwe and Malawi, bringing the total number of visits to Africa in the last four years by the top three representatives of the country to 29. India is ramping up its engagement with the African continent, but China has been doing so for quite some time now: can India find some of its strategies relevant?
The 7th session of the Forum on China-Africa Cooperation (FOCAC), held in Beijing on September 3-4, is a case in point: 53 African countries, the highest number so far, were represented at the summit.[1] Launched in 2000, the Forum has been organising these ministerial/summit-level conferences with remarkable consistency, alternating between Beijing and an African city as host every three years.[2]
The Beijing summit portrayed China and Africa as "a community with a shared future".[3] It reflected their commitment to develop and enrich "the comprehensive strategic and cooperative partnership",[4] covering all possible sectors. A central feature of the Beijing Declaration, the summit's outcome document, was the weaving of the Belt and Road Initiative (BRI), President Xi Jinping's signature project, into the main fabric of the China-Africa engagement. Both sides agreed to form "a strong synergy"[5] between the BRI, Agenda 2063 of the African Union and the 2030 Agenda for Sustainable Development of the UN. As the BRI became a catch-all phrase, China announced its plan to host the second BRI Forum for International Cooperation in 2019, expecting Africa to be an active participant.
The Chinese leadership's central message was that it delivered on commitments and was able to continue to offer financial resources to assist development in Africa. It promised a financial package of $60 billion for the next three years[6], while Xi Jinping spelt out "eight major initiatives"[7] for cementing cooperation in industrial promotion, infrastructure connectivity, trade facilitation and capacity building projects among others.
The Beijing Action Plan (2019-2021) presented the proposals agreed upon, covering both the traditional and newer areas, such as social development cooperation and the ocean economy: the two sides recognised the enormous potential in maritime economic cooperation and resolved "to promote the blue economy for mutual benefit".[8]
Varying perceptions
The words 'mutual' and 'benefit' in the context of China's engagement with Africa today draw mixed reactions. Some western scholars criticise China for laying a debt trap for the African countries, countries which may end up forfeiting their national assets eventually.[9] This is a scenario that is assuming serious proportions in several countries already, such as Angola, Djibouti, Zambia and the Republic of Congo.
Chinese spokespersons and their supporters in Africa argue, in turn, that their country's objective now is to move beyond loans and credits and concentrate on increasing direct foreign investment, especially investment by private Chinese companies: of the promised $60 billion package, $10 billion is expected to come via the latter route.[10] The breakdown of the sum of $60 billion – with a portion of it devolved to the private sector – is significant, indicating that China is responding to criticism about its manner of entrapping countries in debt. It appears to be changing tack.
African scholars, for their part, have been laying the responsibility at the feet of the governments accepting Chinese loans, their argument being that nobody is compelling Africa into a state of indebtedness.
The fact remains that there is an utter paucity of capital for development projects. One could not help noticing that African participants, who spoke at the Beijing summit, were quite willing to accept funds – and ideas – from China.
Occasionally, African concerns did come to the fore. Cyril Ramaphosa, president of South Africa and co-chairman of the Beijing summit, said at the opening session, "Much of what is exported from Africa are raw materials and primary products; much of what is imported from China are finished goods."[11] Clearly, it is not China alone, but other partners too need to internalise Africa's hunger for industrialisation and employment creation, and for opportunities to unleash its entrepreneurial capabilities. Trade patterns ought to change. It is not enough to sell manufactured goods to Africa: it needs help to produce indigenously and become a modern economy.
The 'China-in-Africa' story is special because the Chinese footprint there is substantial and expanding, and the presence of African businessmen and students in Chinese cities is also on the increase. These connections are being presented as "globalisation from below".[12] Africa has emerged as a platform for assessing China's influence in the developing world, but Africa too is striving to influence China in practical ways.[13]
Some takeaways
India can draw some conclusions from the emerging China-Africa cooperation model. The Beijing summit showed that apart from high-level visits, ministerial/summit-level conferences should be held with consistent regularity. In 2008, India began with the once-in-three-years summit only to change it to once-in-five-years in 2015. This calls for a review.
Second, while India cannot match China's financial muscle, it should aim to make its next assistance package at least one-fourth of China's, that is, $15-20 billion. Increasing India's private sector investment in Africa will make such assistance more effective.
Finally, India ought to consult with Africans more in the implementation of a joint strategy. There is a pressing need to create new stakeholders in civil society – beyond governments and the business sector. This alone will help create a sense of true ownership.
Rajiv Bhatia is Distinguished Fellow, Gateway House. A former High Commissioner to South Africa, Kenya and Lesotho, he comments regularly on developments in Africa.
This article was exclusively written for Gateway House: Indian Council on Global Relations. You can read more exclusive content here.
For interview requests with the author, or for permission to republish, please contact outreach@gatewayhouse.in.
© Copyright 2018 Gateway House: Indian Council on Global Relations. All rights reserved. Any unauthorized copying or reproduction is strictly prohibited.
References
[1] The only African country missing was Eswatini, formerly known as Swaziland.
[2] Beijing hosted the first (2000), third (2006) and fifth (2012) ministerial conferences. Addis Ababa (Ethiopia), Sharn-el-Sheikh (Egypt) and Johannesburg (South Africa) hosted the other three ministerial meetings: the second (2003), fourth (2009) and sixth (2015). Of the six, two were upgraded to the summit level – 2006 Beijing conference and the 2015 Johannesburg conference. The third summit was held in Beijing in September 2018. The next conference will be held in Senegal in 2021. Please see an excellent survey of FOCAC conferences by Aiping, Zehn, and Shu Zhan, China International Studies, Origin, Achievements, and Prospects of the Forum on China-Africa Cooperation, September/October 2018, <https://www.focac.org/eng/zfzs_1/P020181026382446204313.pdf>
[3]Forum on China-Africa Cooperation, Beijing Declaration-Toward an Even Stronger China-Africa Community with a Shared Future, 12 September 2018, <https://www.focac.org/eng/zywx_1/zywj/t1594324.htm>
[4] Ibid.
[5] Ibid.
[6] Its aid package in 2012 was $20 billion and $60 billion in 2015.
[7]Xinhua, Tralac, 2018 FOCAC Beijing Summit: Chinese President Xi Jinping's speech at the opening ceremony, 4 September 2018, <https://www.tralac.org/news/article/13435-2018-focac-beijing-summit-chinese-president-xi-jinping-s-speech-at-the-opening-ceremony.html>
[8]Tralac, Forum on China-Africa Cooperation Beijing Action Plan (2019-2021), 10 September 2018, <https://www.tralac.org/news/article/13451-forum-on-china-africa-cooperation-beijing-action-plan-2019-2021.html>
[9]Were, Anzetse, South African Institute of International Affairs, Debt trap? Chinese loans and Africa's development options, August 2018, <https://saiia.org.za/wp-content/uploads/2018/09/sai_spi_66_were_20190910.pdf>
[10]The break-up of $60 billion promised by China in 2018 is:Credit lines – $20 billion; Aid and interest-free loans – $15 billion; Development financing – $10 billion; Investments – $10 billion; and Financing imports – $5 billion.
[11]Tralac, 2018 Forum on China-Africa Cooperation (FOCAC): Remarks by President Cyril Ramaphosa, 4 September 2018, <https://www.tralac.org/news/article/13436-2018-forum-on-china-africa-cooperation-focac-remarks-by-president-cyril-ramaphosa.html>
[12]Kuo, Lily, Quartz, Africa is changing China as much as China is changing Africa, 8 January 2018, <https://qz.com/africa/1168130/africa-is-changing-china-as-much-as-china-is-changing-africa/>
[13]Ibid.