The Bay of Bengal is a bridge between the Indo-Pacific and the Indian Ocean, and with a 1.4 billion population, an increasingly important economic zone in its own right. This project maps the reality as well as the promise of the Bay of Bengal. Yet despite its importance to regional security and prosperity, this series of maps reveals inadequate financial, physical, and energy connectivity. India's strategic and political pre-eminence and influence in the Bay of Bengal is diminished by its limited connectivity with Bangladesh, Myanmar, Thailand, Nepal, and Sri Lanka. This is in sharp contrast to China, which in recent years has built a significant presence in the Bay of Bengal and its resident nations with its connectivity projects and large-scale infrastructure finance. However, China's Belt and Road Initiative projects are not always beneficial for host countries. Instead of top-down mega-projects such as ports and airports, the region may be better off pursuing digital connectivity by enabling tech startups – areas of India's strength.
India's efforts to engage its eastern flank since 2014 through its Act East Policy are in part a response to the expanding Chinese position in the region. It has also shifted its neighbourhood lens eastwards, from the architecture of South Asia (SAARC) to that of the Bay of Bengal (BIMSTEC). However, its ties with West Asia remain far stronger: India holds less immediate political and economic equity in the Bay of Bengal, compared with its massive oil imports from the Gulf and the seven million-strong diaspora, which is estimated to send home nearly half of India's total remittances of $80 billion. Can this be changed, and can India support its Bay of Bengal neighbours to leverage their strategic location for economic prosperity? Can India and partners offer countries a choice other than China to help realise the region's potential?
The following research uses maps to explore these questions, looking at the energy, transport, and financial connectivity across the Bay of Bengal, focusing on projects initiated by China, India, and multilateral partners.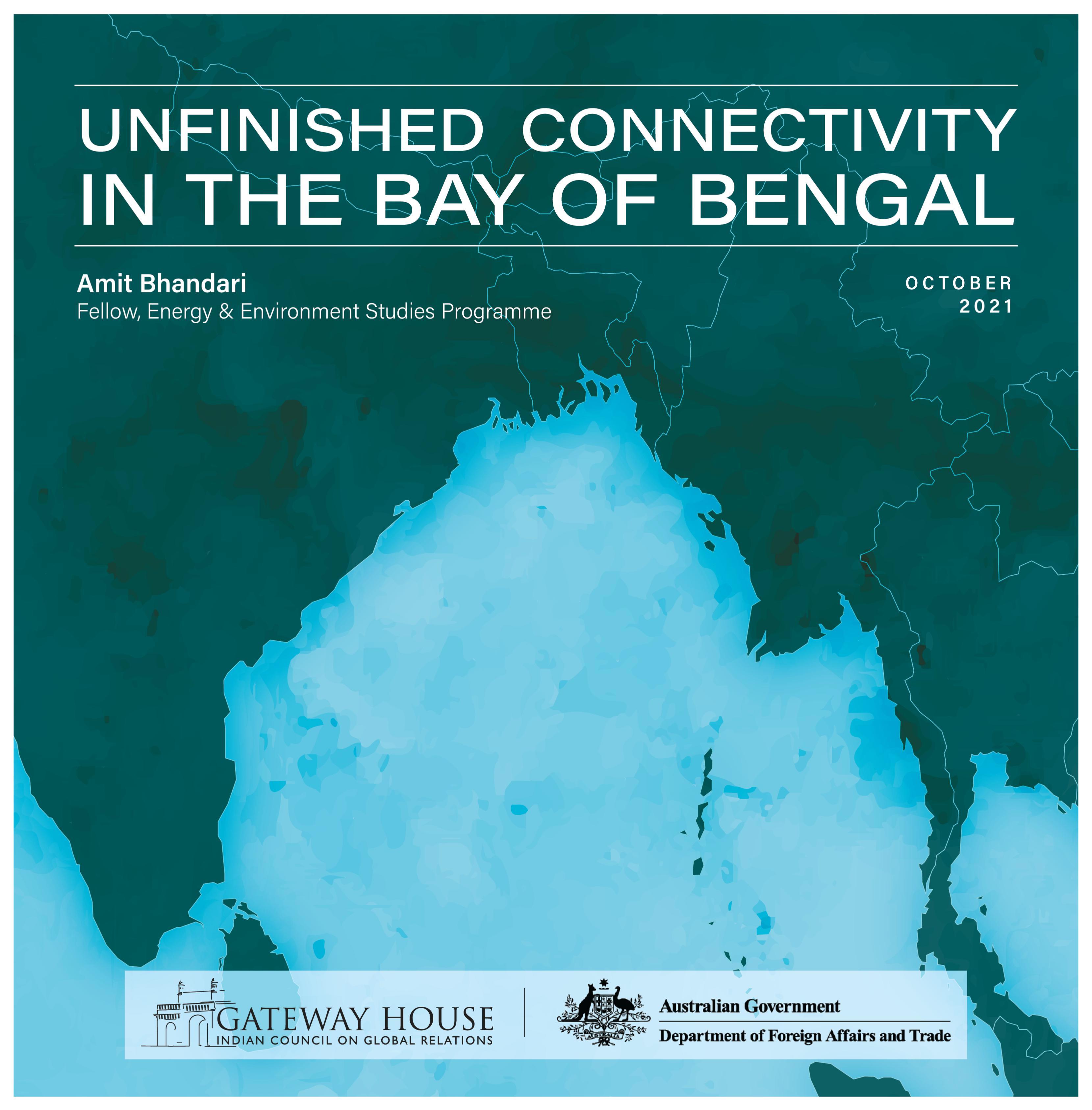 The report is authored by Amit Bhandari, Fellow, Energy and Environment Studies Programme, Sagnik Chakraborty, former Researcher, Cybersecurity Studies Programme, Naren Punjabi and Gitanjoli Dasgupta, former Research Interns. Read the report.
This report was exclusively written for Gateway House: Indian Council on Global Relations. You can read exclusive content here.
For interview requests with the authors, or for permission to republish, please contact outreach@gatewayhouse.in.
© Copyright 2021 Gateway House: Indian Council on Global Relations. All rights reserved. Any unauthorized copying or reproduction is strictly prohibited.