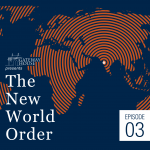 Europe has been rocked by a number of crises in recent years, be it the EU's Euro Crisis, the Ukraine Crisis or the International Refugee Crisis. With this legacy of crises along with the foreboding implementation of Brexit later this month, what does the future hold for Europe?
(6:40) The trigger of the European financial crisis and the perils of a single currency
( 8:58) The link between the issue of labour mobility and Europe's aging population
(11:46) The consequences of the overlap between the EU and NATO
(16:30) How the reduction of hostility between the U.S. and Russia impacts the future of NATO and security in Europe
(20:07) Europe's dilemma on immigration policy
(24:37) The choices before Europe moving towards the future
Recommended:
Brexit, NATO, EU: emerging dichotomies – https://www.gatewayhouse.in/brexit-nato-eu-emerging-dichotomies/
Can Europe overcome its crisis? – https://www.gatewayhouse.in/can-europe-overcome-its-crisis/
Resurrecting European borders – https://www.gatewayhouse.in/resurrecting-european-borders/
'Ukraine crisis has one winner: China' – https://www.gatewayhouse.in/ukraine-crisis-has-one-winner-china/
A divided Ukraine dividing Europe – https://www.gatewayhouse.in/a-divided-ukraine-dividing-europe/
Subscribe to The Gateway House Podcast on iTunes and Soundcloud.
Produced by Virpratap Vikram Singh and Arjun Chawla
Theme music by Rohan Dalal

Podcast: Play in new window | Download
Subscribe: Apple Podcasts | Android | Email | RSS