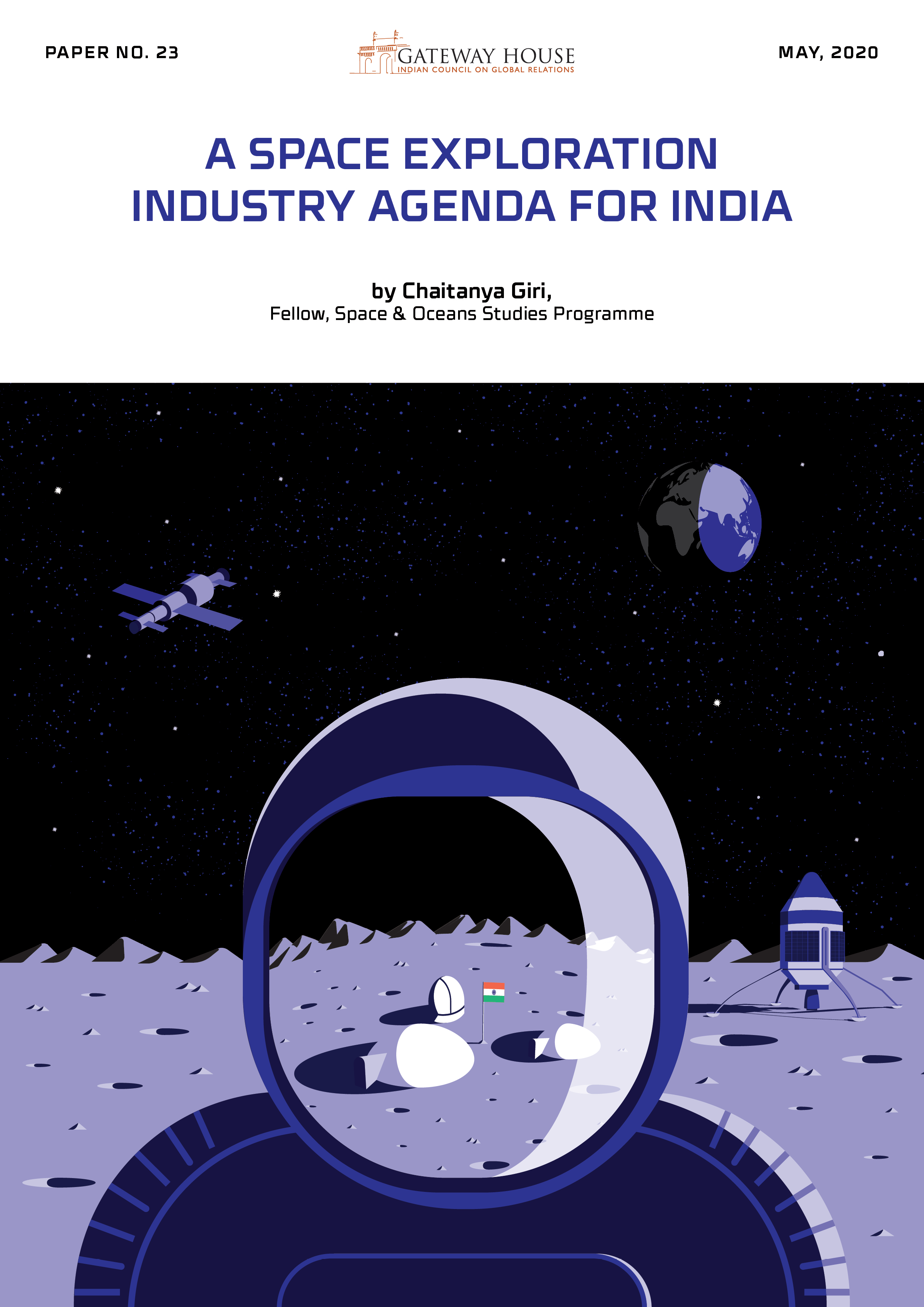 Introduction
In 2022, India will celebrate the 50th anniversary of the establishment of the Department of Space (Dos)DoS, the lead administrator of its space programme. A diamond jubilee is a good time to review India's space aspirations and consider whether they need to be revised.
DOS, which began as a unit of the Department of Atomic Energy (DAE), has built a vast repertoire of space technologies, forged strategic international space cooperative relations, managed superpower economic conflicts that threatened to interfere with its acquisition of essential materials and technologies, and led India to touch the south pole of the moon (2019). India's prolific civilian space programme helped nurture the technologies of the first space age – Space 1.0. It used these technologies to fulfil a mandate to address socio-economic concerns. It broke new grounds in satellite-based agriculture support, distance education, long-range communications, multimedia and weather-forecasting.
The socio-economic goals that the DoS vowed to address in the 20th century have been met. India today is a much more advanced country, with an economy now ranking 5th in the world. But times have changed, and India's space programme must change with them. Just as the First Space Age (Space 1.0) was closely linked to the rise of semiconductors, plastics and composites, which defined what is known as the Third Industrial Age (Industry 3.0), a new, Second Space Age (Space 2.0) is emerging as the Fourth Industrial Age (Industry 4.0), based on the merger of cyber and physical systems.
But achieving a marriage of space technology and industrial development today will require different approaches than those pursued during the Space 1.0. Space 2.0 is witnessing a heightened interest in space exploration based on the canon of commercialisation-industrialisation-democratisation. For the first time countries are extensively commercialising their space programme. As part of that effort, they are formulating new space policies and visions designed to stimulate the development, scale-up, and market permeation of new technologies by Micro, Small and Medium Enterprises (MSMEs) and large industrial corporations as well as public and private institutions that engage in research, development, testing and evaluation (RDTE).
This transformation is occurring at a time when space programmes and associated economic developments are becoming democratised; countries that previously lacked space agencies or formal structures for space exploration are seizing opportunities to participate in the new space age. They are shunning the old Space 1.0 models. They are merging cutting-edge cyber and physical technologies, including ones built in non-space technology ecosystems, to meet current and future needs of space exploration and the economic and social needs of the immediate future. Recognising the link between space programmes and new-age technologies, most of India's Space 1.0 contemporaries – Russia, U.S., Japan and China – already are commercialising and industrialising their space sectors, and in the process moving beyond strict national space programme silos and in favour of public-private collaboration that spans across domestic and global realms. But India's space programme remains driven by a single government agency, the Indian Space Research Organisation (ISRO). Held back by nostalgia for past achievements that have come painstakingly, India's civilian space programme is reluctant to move beyond the Space 1.0 era ethos, practices and skills.
Its reticence is nothing new. India avoided space exploration for the first four decades of the civilian space programme, viewing it as a fantastic pursuit limited to the most economically advanced nations. Now, despite its moments of glory in recent years, the Chandrayaan series of lunar missions (2008 and 2019), the Mars Orbiter Mission (Mangalyaan, 2013), and the ongoing Indian Human Space Flight Programme (IHSFP) or Gaganyaan, have yet to result in large-scale economic liberalisation that will put India's space exploration sector among leaders in space and industry.
India's civilian space programme must let go of the past and start preparing for Space 2.0. It must foster indigenous technologies and ensure synergies with the Indian private sector, including startups and large private companies. Failure to act – to exploit fully the economic opportunities that could result from a robust national public-private space exploration programme – would mean more than lost opportunities in space. India could miss chances to spur its economic growth on Earth.
You can download the PDF version of this paper here.
Chaitanya Giri is Fellow, Space and Ocean Studies Programme, Gateway House.
This paper was exclusively written for Gateway House: Indian Council on Global Relations. You can read more exclusive content here.
For interview requests with the author, or for permission to republish, please contact outreach@gatewayhouse.in
© Copyright 2020 Gateway House: Indian Council on Global Relations. All rights reserved. Any unauthorised copying or reproduction is strictly prohibited.