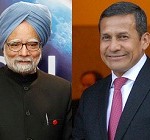 India's trade with Peru in 2012 reached $1.128 billion. With this, Peru has joined the "billion-dollar club" in annual trade with India, along with Brazil, Venezuela, Mexico, Chile, Colombia, and Argentina. The increase in trade with Peru was an impressive 50% from $750 million in 2011 and only $470 million dollars in 2007. The bilateral trade could reach $2 billion by 2015.
India's imports from Peru in 2012 were mostly minerals and metals. The major items were: copper ($140 million); gold ($107 million); and other minerals ($120 million). Peru has also started exporting fresh fruits such as grapes; fishmeal is another regular import to India from Peru.
India's exports to Peru reached a record $ 742 million in 2012, up from $ 510 million in 2011 and $ 250 million in 2007. The main exports from India in 2012 were iron and steel products, including pipes ($ 100 million);  motorcycles and cycles ($ 72 million);  cotton yarn and fibre ($ 74 million); vehicles ($ 59 million); and polyester yarn ($ 41 million).
Peru has transformed itself politically and economically in the recent past. Democratic institutions have taken strong roots. President Ollanta Humala pursues pragmatic and balanced pro-poor and pro-market policies. Labelled as the Chavez of Peru by the opposition, Humala lost the elections in 2006. But in the 2011 elections he re-branded himself as the Lula of Peru and won easily.
His government's projects and the jobs created in the flourishing private sector, have helped 7 million people to come out of poverty. His spending power for his "inclusive agenda" has increased thanks to the higher tax revenue generated by the dynamic corporate sector. He has not allowed his left-of-centre convictions to distort foreign policy. He maintains good relations with the U.S. and his neighbours without getting into ideological issues.
Peru is going through a virtuous circle of economic growth. Over the period 2002–12, the Peruvian economy almost doubled, real GDP grew at an average annual rate of 6.3% percent (the highest 10-year average growth in Peru's history) despite the impact of the U.S. and European crises, and the average annual inflation rate fell to 2.7%, one of the lowest in the region. In 2013, the projected GDP growth rate is 6% after a growth of 6.3% in 2012. With its sustained high growth and low inflation, Peru is being called the "macroeconomic star of South America" by some experts.
Foreign investment is pouring into mining, hydrocarbons and big infrastructure projects. The FDI in 2012 was $12.2 billion, an increase of 49% over 2011. Peru is one of the seven countries in Latin America which has an Investment Grade rating. Four big mining projects will double Peru's output of copper, its largest single export, in the next four years. Peru is one of the leading mining countries of the world, with reserves of minerals such as copper, gold, zinc, silver, lead, and tin. The Peruvian mining sector expects to see an investment of $52 billion in the next 10 years. The potential of oil and gas is also being explored, and Peru has already started exporting gas.
The Peruvian government has an innovative corporate taxation policy. It gives companies the option of paying part of their tax bill in the form of regional infrastructure works in the poorest regions. The companies can choose from approved lists of public works projects, or make their own proposals. The companies support this new mechanism; it enhances their corporate social responsibility profile more than what they would gain by just paying taxes. The people also approve of this policy, since the projects are done more efficiently and cost-effectively.
There are investment opportunities in Peru for Indian companies in mining, energy, and the services sector. The foreign investment policies of the Peruvian government are positive, transparent, predictable, and stable. Four Indian companies have invested in mining with modest amounts. This includes Indian Farmers Fertiliser Cooperative Limited (IFFCO), which has invested in a potash mine in Peru in collaboration with a Canadian company. Tata Consultancy Services (TCS) and Aegis have opened information technology/ business process outsourcing (BPO) centres in Lima. Some Indian pharmaceutical companies have offices in Lima.
Peru is home to a vibrant Indian community. An Indian owns a chain of cinema halls, while another has set up pharmaceutical manufacturing and distribution units. A Peruvian soft drinks company called Aje has opened a bottling plant in Patalganga in Raigad district in Maharashtra to produce and market its Big Cola brand of fizzy drinks.
India's exports to Peru should cross a billion dollars in 2014, given the high rate of growth in recent years. But India's exports are at a disadvantage vis-a-vis the exports from Peru's free trade agreement (FTA) partners. Peru has signed FTAs with a number of countries including China, U.S., Japan, Thailand, and Singapore; it is a member of regional economic groupings such as the Pacific Alliance, Asia-Pacific Economic Cooperation (APEC) and Andean Community.   It is in India's interests to initiate negotiations to sign an FTA/ PTA with Peru to address the disadvantages of Indian exporters to the Peruvian market.
Ambassador Viswanathan is Distinguished Fellow, Latin America Studies, Gateway House. He is the former Indian Ambassador to Argentina, Uruguay, Paraguay and Venezuela, and Consul General in Sao Paulo. 
This article was exclusively written for Gateway House: Indian Council on Global Relations. You can read more exclusive content here.
For interview requests with the author, or for permission to republish, please contact outreach@gatewayhouse.in.
© Copyright 2013 Gateway House: Indian Council on Global Relations. All rights reserved. Any unauthorized copying or reproduction is strictly prohibited.