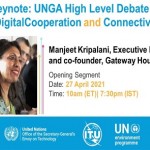 On 27 April, 2021 at 7:50 PM (IST), Manjeet Kripalani, our Executive Director and co-founder will be speaking at the United Nations General Assembly as a Keynote Speaker on the topic of Digital Cooperation and Connectivity. The event is hosted by the UN Office of the Secretary General's Envoy on Technology.
Digital technologies have been a lifeline for millions during COVID-19. Yet, almost half the globe is disconnected and cannot work, learn and trade online. How to bridge this gap? The General Assembly shines a spotlight on this digital divide through this debate.
Watch the live telecast here.
Learn more about the event here.