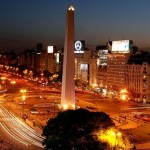 Argentina is transforming into a business-friendly country with the election of a reform-oriented president and readying to step into the global limelight next year with the chairmanship of the G20. It already has a highly educated, English-speaking talent pool, and a well developed innovation ecosystem, but it is now strengthening the support network for startups and entrepreneurs.
This is an area with which I am familiar as in 2008 and 2009, I spent six months in Buenos Aires, writing a Ph.D thesis, improving my Spanish, and enjoying the city's rich food and culture scene. The year 2008 was a time of excitement and hope as the country began to rise up once more after the financial collapse that had struck it six years earlier; there was a sense of new possibilities in the air.
Argentina has an impressive economic history of robust trade with the world. A century prior, in 1909, its GDP was 50% higher than Italy's, 180% higher than Japan's and five times that of neighbouring Brazil's, driven largely by agricultural trade and exports. By 2002, following decades of political instability and poor management of the economy, the country defaulted on $90 billion of sovereign debt, and faced financial collapse. Inflation stood at 20% a month and unemployment at 21%. The government ended the fixed exchange rate (pegged to the dollar) which saw the peso in free fall, wiping out savings and pushing a large part of the population into poverty.
By 2008, the gloom was lifting. This was evident through increased entrepreneurial activity. There are numerous parallels between Buenos Aires and other Indian metros, such as my adopted city, Mumbai: both are energetic with a startup spirit and a zest for life. And just like Mumbai, Buenos Aires had a history of trading, business and entrepreneurship. That year, startups, especially in the technology sector, were springing up in the city's hipster neighbourhoods. While the ecosystem was nowhere near as developed as in Bangalore or Mumbai, there were many committed individuals setting up organisations, such as Endeavor Argentina, incubating startups, and a local angel network.
The political environment remained topsy-turvy, with the Kirchners (first Nestor, and by the time I was there, his wife, Christina) holding on to the presidency and refraining from reforms to make the country more business- and market-friendly. Given the recent financial collapse, it was hard for Argentine startups to raise funds–both at home and abroad–and there was no smoothly functioning legal framework in place for new businesses. Setting up a business and running it was cumbersome.
India seemed well ahead at the time, with its array of venture funds, larger number of tech firms, and emerging networks of angels, incubators and others creating a startup ecosystem.
Today, however, Argentina is resolutely catching up, although the numbers are much smaller. The Latin American Private Equity and Venture Capital Association (LAVCA) reported that total venture deals in Argentina in 2016 stood at about 25 with a total value of $40 million.
With the election of Mauricio Macri, the country has a president who, in common with Modi, has put entrepreneurship and startups high up on the agenda. Earlier this year, the government passed the Ley de Emprendedores—or the Entrepreneur's Law–that permits faster and more straightforward procedures to set up a new company. Like the recent Startup India initiative, this too holds provisions for setting up a fund of funds for venture investing in the country, and there is a push for a number of new incubators and accelerators. However, it goes beyond that to offer other exciting facilities that may hold lessons for India, such as making investments in certain startups tax deductible and allowing for crowdfunding platforms through which startups can raise funding by offering equity.
Just like the startup ecosystems in Mumbai and Bangalore, Buenos Aires entrepreneurs have been gaining traction without much direct government assistance in the years since I was there (though the city government of Buenos Aires has been funding business accelerators). Instead, they rely primarily on private sector funding and support. Today there are accelerators, including NXTP Labs, more investors, including early stage tech investor Xpand Ventures, and platforms, such as the Association of Entrepreneurs in Argentina (ASEA), Startup Buenos Aires (SUBA); Argentina Association of Private Equity, and Venture and Seed Capital (ARCAP).
Palermo, the bohemian neighbourhood in which I lived–the Buenos Aires equivalent of Mumbai's Bandra–is now a tech startup hub with its own aptly named meet-up and networking facilitator, Palermo Valley. What was then the most  recently established and impossibly chic co-working space, Area Tres, where I spent many hours writing up my thesis, is now one of the largest co-working spaces in Latin America and a hub for entrepreneurship, with well over 200 members and counting.
Just like in Mumbai and Bangalore, in Buenos Aires the startup ecosystem is gathering momentum* New co-working spaces and tinkering labs are opening, young people are setting up their own ventures, and venture capital firms are raising new funds. Perhaps the G20 will be a good time for India and Argentina to exchange best practices on building emerging economy startup ecosystems, for example, and implementing government policy at the national and local levels.
Lina Sonne is Fellow, Innovation Policy at Gateway House.
This blog was exclusively written for Gateway House: Indian Council on Global Relations. You can read more exclusive content here.
For interview requests with the author, or for permission to republish, please contact outreach@gatewayhouse.in.
© Copyright 2017 Gateway House: Indian Council on Global Relations. All rights reserved. Any unauthorized copying or reproduction is strictly prohibited.