---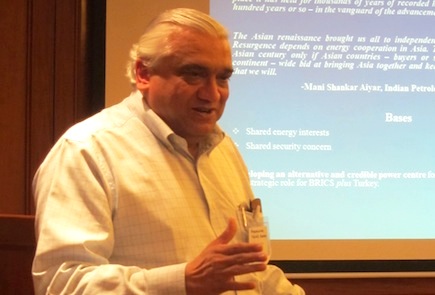 ---
The U.S. and the EU are pressing India to cooperate on further sanctions against Iran. The pressure of sanctions are so great that now insurance companies are refusing to cover ships carrying oil from Iran. Even the Indian company which imports the largest amount of Iranian crude is cutting back, and all major banking transactions with Iran through the Belgian banking company, SWIFT, are being halted. India gets 12% of its crude oil requirements from Iran, and has found a way to pay Iran in rupees to avoid the sanctions. But how will these growing concerns play out? How will India position itself in these cross-currents? What affect will a military conflagration in the region have on India's relations with Iran, Israel and the U.S.? What will be the impact on the Indian economy and how will Indian companies respond?
Gateway House: Indian Council on Global Relations hosted Ambassador Talmiz Ahmad, former Indian Ambassador to Saudi Arabia, the Sultanate of Oman, and UAE, to discuss the Iranian issue and its implications for energy security. The event was moderated by Gateway House's Senior Geoeconomics Fellow K.N. Vaidyanathan.
The tension around Iran is probably the most important and sensitive issue in the oil markets and represents a problem for many nations, including Syria. Even through Syria may seem unappealing at first glance because it doesn't have much natural resources nor money, its privileged relations with Iran represents a strategic value.