After years of restricting its operation, India is now taking steps to launch its own, official crypto-currency. The government is likely to introduce the Cryptocurrency and Regulation of Official Digital Currency Bill, 2021 during the parliament's on-going budget session. The bill will create the framework for an official digital currency, to be issued by the Reserve Bank of India (RBI). It will also ban private crypto-currencies but allow the underlying distributed ledger technology which allows to create, share and sync data in a tamper-proof manner.
Till now, the RBI had barred citizens from trading in, or using, these currencies. In 2018, it also prohibited banks from providing financial services to crypto-currency exchanges. However, in March 2020, the Supreme Court of India ruled that while the RBI had the power to regulate these currencies, the Bank's order to prohibit crypto-currencies was disproportionate and therefore unconstitutional.[1]
It's about time that India is brought in line with the world. In the last decade, there has been an explosion of crypto-currencies globally. Multiple private players from individuals to companies to countries, riding on the bandwagon, launched crypto-currencies. Some countries like Venezuela with foreign exchange and economic crises, tried their hands at official crypto-currencies, though their adoption has been much slower than their private equivalents. Russia and China have announced plans but they are still to be in effect.
The most prominent among these currencies is the Bitcoin, Satoshi Nakamoto (a psueydonym for a person or a group of persons), which remains the most expensive crypto-currency, despite fluctuations in its value over the years.
Crypto-currencies are popular because of their decentralised nature. They have been used for many innovations in the financial sector, such as peer-to-peer lending and crowd-funding. Migrants are also using crypto-currency based remittance services because they cost much less than regular bank transfers, per transaction  – 1%-2%, compared with 5%-7%.[2]
However, rogue elements too have seized on the promise of crypto-currencies, from criminal gangs to terrorist groups. Their use is flourishing on digital black markets and darknet marketplaces such as the erstwhile Silk Road, to terrorist groups using them to raising finances. In one such high profile case in August 2020, the U.S. Department of Justice disrupted three terrorist networks linked to al-Qaeda and the Islamic State, which had solicited crypto-currency donations to fund their activities.[3]
However, the benefits of crypto-currencies outweigh their misuse. The recent investment of $1.5 billion in Bitcoin by Elon Musk's Tesla shows that it is here to stay. Bitcoin reached a value of $48,216 in February 2021 after Tesla's announcement–an unprecedented rise in a decade. Clearly, crypto-currencies have ushered a new fintech and currency revolution, which no major economy can afford to ignore it.
Rise of crypto-currencies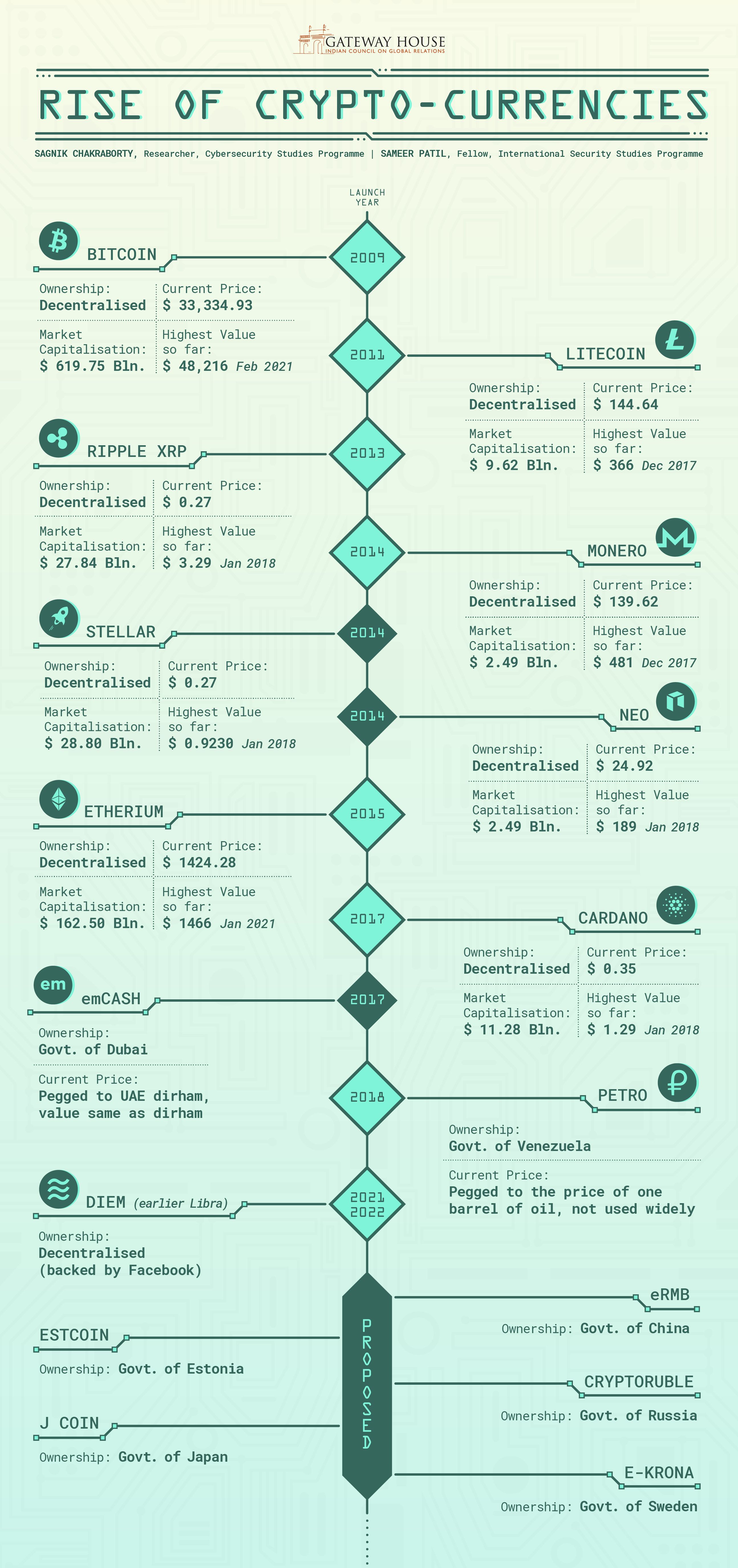 Designed by Debarpan Das.
For interview requests with the authors, or for permission to republish, please contact outreach@gatewayhouse.in
© Copyright 2021 Gateway House: Indian Council on Global Relations. All rights reserved. Any unauthorised copying or reproduction is strictly prohibited.
References 
[1] Supreme Court of India, Internet and Mobile Association of India versus Reserve Bank of India, <https://main.sci.gov.in/supremecourt/2018/19230/19230_2018_4_1501_21151_Judgement_04-Mar-2020.pdf> (Accessed on 5 January 2021).
[2] Flore, Massimo, "How Blockchain-Based Technology Is Disrupting Migrants' Remittances: A Preliminary Assessment", Publications Office of the European Union, 2018, < https://core.ac.uk/download/pdf/186490943.pdf> (Accessed on 5 February 2021).
[3] Office of Public Affairs, The United States Department of Justice, Global Disruption of Three Terror Finance Cyber-Enabled Campaigns, <https://www.justice.gov/opa/pr/global-disruption-three-terror-finance-cyber-enabled-campaigns> (Accessed on 26 January 2021).